Why Debsh
2022
2021
2020
2019
2011
1992
1960
2022
.Opening 3 new branches
.Expanding the tea bag production line and triple the capacity
.Production of electricity required by the factory for the first time in the country
2021
.Development of Debsh Tea Sales Department
.Opening more than 5 new branches in the country
.Development of the tea -bag production line
2020
.Inauguration of the second phase of Debsh Tea Printing House
.Buy the largest Iranian tea factory
.Inauguration of the online and telephone sales branch (47200)
2019
.Inauguration of the first phase of Debsh Tea Printing House (Debsh Pack)
2011
.Development of sales Department
.Import the latest tea bag production machines
1992
.Registration of commercial  Debsh tea brand
.Registration of commercial  Asham tea brand
.The development of the factory production line
1960
Debsh Tea entered the country's tea industry in the 1960s with the aim of providing different and high quality products and started operating as a business group in the field of importing tea from producing countries such as India, Sri Lanka, and Kenya.
Debsh Targets :
Debsh Tea Company considers its greatest mission to ensure and maintain the satisfaction and trust of its customers in the production, presentation and stability of high quality products and by the help of Almighty God has never sacrificed product quality for organizational interests and at all times respecting consumer rights, It is obligatory for them to present products in their dignity, and obtaining the highest level of customer satisfaction according to surveys and obtaining several quality certificates and observing consumer rights is a proof of this.
Therefore, producing a product tailored to the needs and tastes of customers, and the commitment to protect customer rights and continue to provide high quality and safe products is the main strategy of this company.
Therefore, producing a product tailored to customer needs and tastes, and commitment to protect customer rights and continuing to provide a high quality and safe product is the company's main strategy of this company.
Debsh Export:
Production based on modern world standards and the latest technology and knowledge and skills, provides the ability to compete for the supply of Debsh tea products in international and European markets.
Thanks to the unique quality of Debsh products, today Debsh products are shining among other prominent and reputable international brands in the tea industry, and the assurance of using Iranian products outside the borders of our beloved country has been extended.
Currently, debsh tea products are exported to countries such as Japan, Iraq etc, which indicate and confirm the health and safety level of the company's products.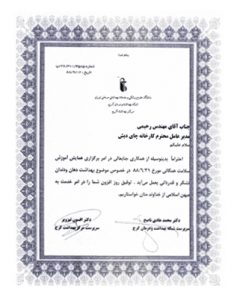 تقدیرنامه دانشکده علوم پزشکی و خدمات بهداشتی درمانی کرج سال 1388
تقدیرنامه دانشکده علوم پزشکی و خدمات بهداشتی درمانی کرج سال 1388
تقدیرنامه دانشکده علوم پزشکی و خدمات بهداشتی درمانی کرج سال 1388
تقدیرنامه دانشکده علوم پزشکی و خدمات بهداشتی درمانی کرج سال 1392
شرکت کننده نمونه -نمایشگاه صنایع غذایی شیراز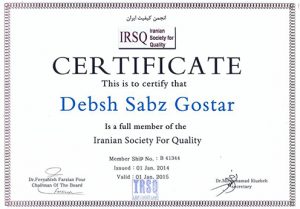 انجمن کیفیت ایران
DAS -Certificate of Approval
QSCert – CERTIFICATE
سیستم مدیریت ایمنی مواد غذایی
QSCert – CERTIFICATE 3
QSCert – CERTIFICATE 3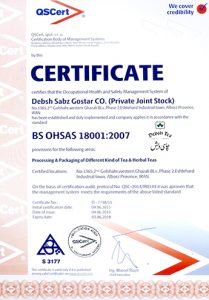 QSCert – CERTIFICATE 5